2v9l0wf5awzi3au5wnir1whosuevjj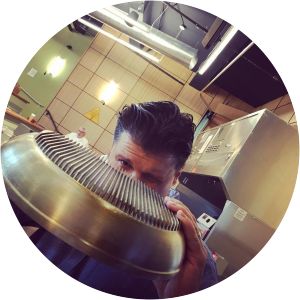 CMC Richard Rosendale
"As a forward-thinking chef, it's in my DNA to seek the most cutting edge kitchen equipment. The Turbo Pot is one of the most breakthrough innovative ideas I have ever come across. Not only is it a remarkable energy saving concept, but it also saves time in a busy kitchen while delivering extraordinary results in your cooking."
Chef Rich is one of the 67 Master Chefs in US. He represented the United States, placing in the top third at the biennial 2013 Bocuse d'Or competition in Lyon, France. As the youngest Executive Chef in The Greenbrier history, Rich opened five new restaurants and launched the 44-acre Greenbrier Farm. Rich made his television debut in 2013 on CBS's Recipe Rehab, where he starred in 13 episodes with Vikki Krinsky and Evette Rios. His upcoming restaurant Roots 657 in Leesburg Virginia will feature a full set of Turbo Pots."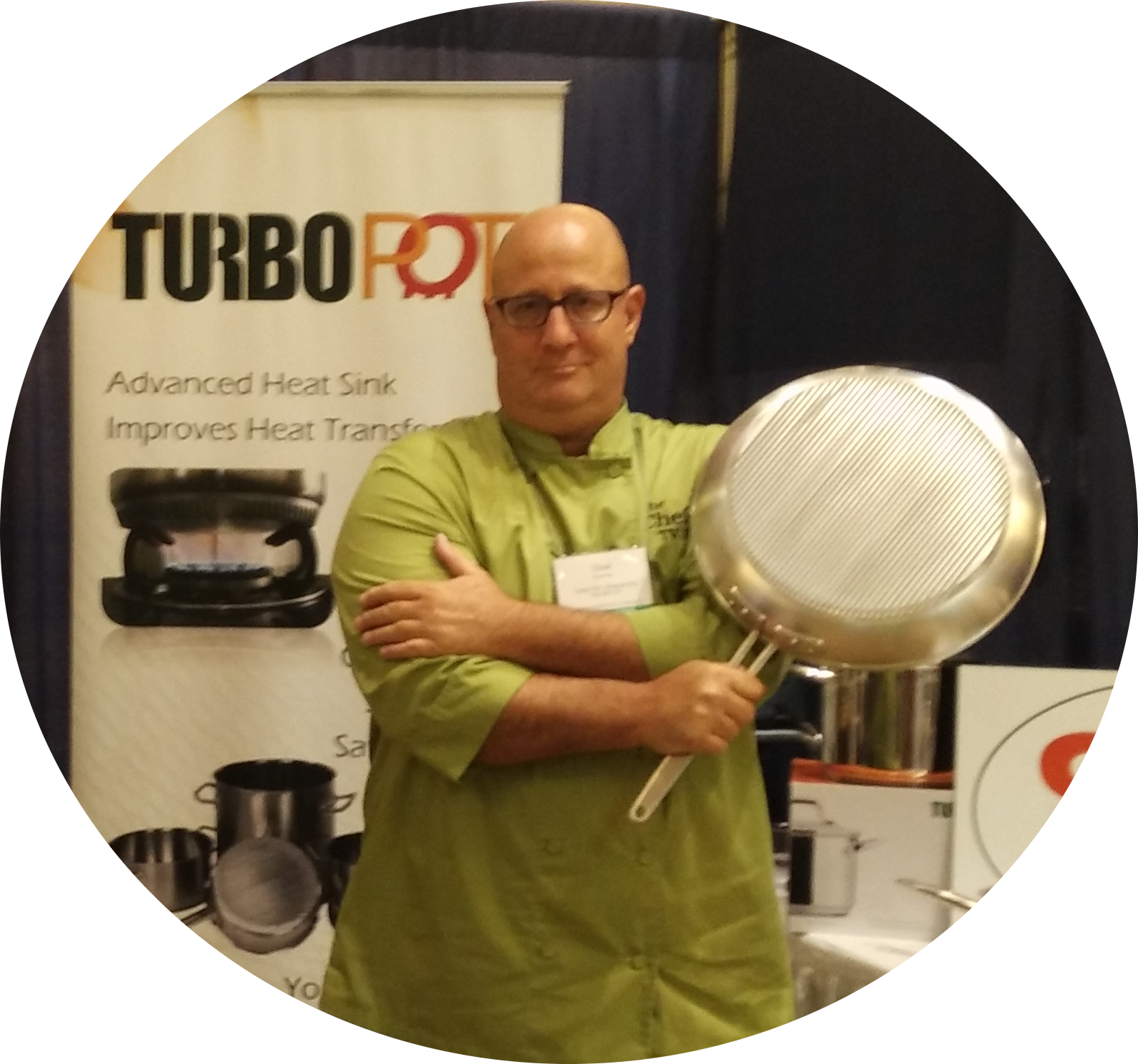 Chef Roc
"Turbo Pan is a real green pan: cooks fast, saves energy, good for the environment."
Chef Roc, Steven Cassarino is a celebrity chef and entertainer with over 30 years of professional experience in the kitchen, and more than 20 years of exposure on both locally and nationally broadcasted television programs.
Joel Barker
"I have been in Research and Development for Carrabba's Italian Grill for 10 years and with the company for over 19. In this time, I have seen many products that claim to be 'the best thing since sliced bread.' Well, the Turbo Pot really is the best thing since sliced bread! It saves us a lot energy, reducing carbon foot print while maintaining high level of production."
Joel Barker, VP R&D Carrabba's Italian Grill, now is the general manage of John Carrabba's new concept Mia's in Houston."
Chef Dean Max
"Turbo Pan heats up fast, it allows us to get the job done quickly and be a lot more efficient in cooking."
Chef Dean Max
President/Owner, DJM Restaurants
1st Place "King of Seafood", Great American Seafood Cookoff (2010)
multiple James Beard nominations for Best Chef
owner of multiple renowned restaurants such as 3030 Ocean, Water Table Restaurant, James Republic, and more.
See Chef Max's Restaurant
Chef Mikhail Shvarts
"At our Bon Appetit account, we continue to be thrilled, for the last six months, with the Turbo Pot equipment. We can accomplish our daily production quicker because of the remarkable Turbo Pot technology that allows for quicker heating across the board. This is a hugely important aspect whether bringing soup to a simmer or simply heating a pan for over-easy eggs. We are equally pleased that we can contribute towards greater sustainability by using less gas during initial heating and the duration of the cooking process. Turbo Pot is a great product. We highly recommend it!"
Chef Mikhail Shvarts
Executive Chef, Bon Appetite at SAP in Palo Alto
Chef James Aptakin
"Turbo Pot is a revolutionary new cookware with the ingenious feature of heat sink technology that transfers heat directly to the pan. Because time is money, we use the restaurant quality pan with all the energy get right into this pan and get the even heat distribution. You get perfect sear and caramelization."
See his demo video
Chef James Aptakin
Executive Chef, Turtle Bay Resort North Shore Oahu
1st place in Seafood, World Food Championships 2017
Chef Reimund Pitz
"As former Executive Chef of Walt Disney World and MGM Studios and Chef/Owner of Le Coq au Vin Restaurant, I have the great privilege of utilizing the best pots in the world ranging from German, France, and Italy. I must say, after rigorous testing and abuse in some cases, I can honestly say that Turbo Pots held up to all of the testing I conducted. There was no warping, no discoloration and they continued to distribute the heat evenly on the cooking surface because of the very creative design on the bottom of the pan."
Chef Reimund Pitz, Executive Chef
Owner Chef Chef/Owner, Le Coq au Vin Restaurant,
Manager of the ACF Culinary Team USA 2018
Former Executive Chef of Walt Disney World and MGM Studios
See Chef Reimund's Restaurant
Chef Robert Phillips ("Super Chef")
"By Using Turbo Pots, It Supports Life Balance! Less time spent in the kitchen. Turbo Pots The Quickest Way To Gold (in competition). Turbo Pots Saved Me $x0000 Last Year."
Chef Robert Phillips, Executive Chef
Executive Chef Director of Culinary & Nutrition Services, Mission Community Hospital
President of the Chef De Cuisine Association of California, ACF-Los Angeles
See his ACF chapter
Chef Ben Diaz
"Turbo Pot is a chef's dream; I save time and money with these amazing pans. Perfect sear every time and the even distribution of heat is so great that it rivals any cast iron pan or copper pan out there."
Ben Diaz CFBE, CHDT, CPFC
Director of Culinary Innovation, CBDcuisine Consulting Firm
Managing Director, Epices De La Vie LLC.
Executive Chef, Luxe City Center Downtown LA
Apprenticeship Chair, Chef de Cuisine Association of California, ACF-Los Angeles
See his ACF chapter
Chef Shayne McCrady
"As an up-and-coming Young Chef in the culinary industry, I have learned many valuable lessons. One of which is, 'Time is Money.' Think about it, Turbo Pots heat up faster and cook faster, thus translating into more customer turnover. On top of turnover, the Turbo Pots cut down on gas and labor. Turbo Pots are a money saving investment. Not only will they advance me in my career, they also give me an advantage in competition. I cannot wait to see what they come up with next."
President, ACF Young Chefs Club (ACFYCC)
Member, ACF Chef de Cuisine Association of St. Louis, Inc.
2016 Student Chef of the Year, ACF Central Region,
2017 Hans Bueschkens Young Chef Challenge, Silver Medal & Highest Score
See his ACF chapter