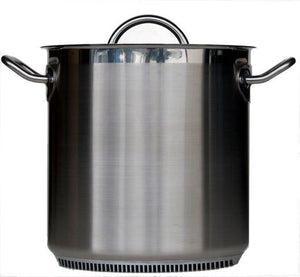 Constructed of durable 304-grade stainless steel and engineered to outperform the competition. Its intelligent design incorporates heat exchanger technology into the base of the cookware: dramatically improving heat transfer into the pot by 30%-50% and optimizing fuel efficiency. 
This techno-advanced cookware is perfect for making stock, broth, and soup; boiling lobster, shrimp, and corn; or deep frying turkey. The high-performance heat sink saves time and energy, enabling you to cook hotter and faster.

The Turbo Pot stock pot boasts superior heating capabilities that minimize scalding at the base, improve heating uniformity, and keep handles cool to the touch. Whether you are boiling liquids in record time or simmering at significantly lower burning settings, you will be saving natural gas and improving burner energy efficiency.
Turbo Pot is a novel tool that can help you reach your operation's sustainability goals by effortlessly lowering energy consumption and reducing cooking-related emissions with every meal made! the time-saving capabilities of our stock pots put them in a class of their own.