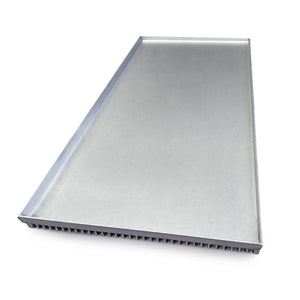 A brilliant solution when you only have a gas rangetop and no available floor or counter space to add new equipment. This all new, high speed and high performance griddle plate will help you add new menu items without the need for new appliances. The Turbo griddle is loved by chefs for being an easy, inexpensive and useful upgrade where kitchen space is at a premium.
With unparalleled even heating, this 11.5" x 22" griddle plate will provide the productivity of a much larger conventional griddle plate and virtually eliminate hot/cold spots. 

You can keep the burner setting on much lower and still maintain the same working temperature-saving you money on your gas bill and conserving precious fuel in off-grid cooking applications, like event catering or food trucks.